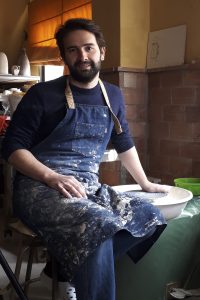 My name is César Torres, and Ceramics has always been a essential part of my life since my first contact with clay at the age of 7, and I have been always more concerned about learning than showing my pieces.
After several years learning the most important techinques, I started my professional carreer as a mathematician, first in the stock exchange market and afterwards as a technical consultant in a software company, but always working at my workshop, learning and investigating .
Now I am facing the new challenge of becaming a professional potter .
Education:
1981 – 1988 Fomento Ceramic School – Alfonso D'ors
2009 Pottery – Simon Leach
2010 Terra Sigillata – Miguel Molet
2010 Ceramic Jewellery – Nuria Soley
2010 Blacksmithing – Leon School of Arts
2011 Image transference to ceramic – Javier Ramos
 2011 Naked raku – Isabel Companys
 2012 Jewellery – Leon School of Arts
 2012 Glass fusing – Fundacion Centro Nacional del Vidrio
 2014 Crystalline glazes – Antonio Portela
 2014 Blacksmithing – Ramon Recuero
 2015 Advanced pottery – Miguel Molet
 2016 La moncloa Ceramic School
 2016 Ceramic decorative techniques – Oscar Arribas
 2016 Sculptural Pottery – Shozo Michikawa
 2016 Paper clay – Rafaela Pareja
 2016 Advanced image transference to ceramic – Javier Ramos
 2016 Smokeless woodfiring – Masakazu Kusakabe
 2016 Advanced pottery – Pepe Toyo
 2016 Japanese and Korean tea bowls – Encarna Soler and Patricia Varea
 2016 Soluble salt slips – Carles Torrent
 2016 Metallic glazes – Maite Larena
 2016 Glazes – Alfonso D'ors
 2017 Glazes – Maite Larena
 2017 Slab building – Enrique Mestre